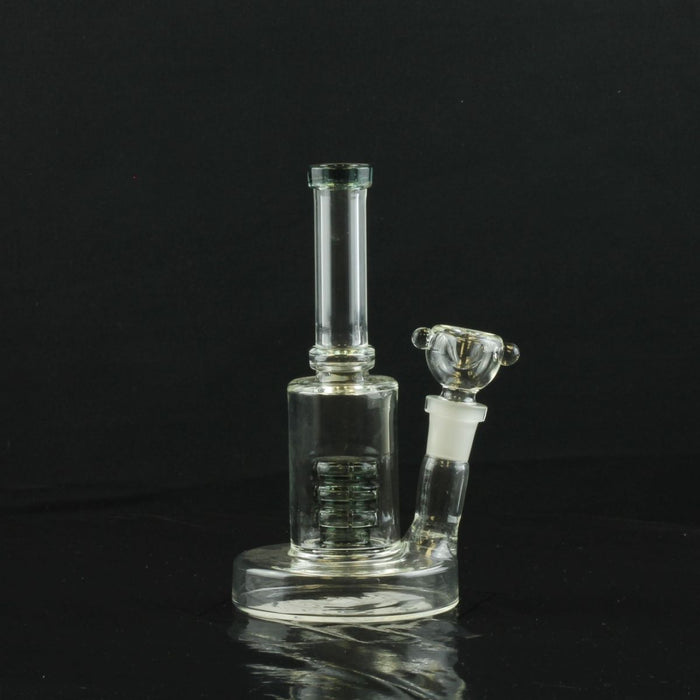 6 inch Splasher Mini Bong
Save

0

%
Save %
Original price
$18.00
-
Original price
$18.00
Introducing the 6 inch mini splasher bong, a compact and powerful smoking companion designed for the discerning enthusiasts. Crafted with precision using 5mm thick borosilicate glass, it guarantees durability and heat resistance. Standing at a height of 6 inches, it offers a perfect balance between portability and functionality. The 2 cm mouthpiece provides a comfortable and enjoyable smoking experience. With its 20mm female joint bowl, you can effortlessly enjoy your favorite herbs or concentrates. Upgrade your smoking sessions with the 6 Inch Mini Bong, a true masterpiece of design and performance.
Product Highlights:
Model: 6" SPLASHER
Material: 5mm thick borosilicate Glass
Height: 6 Inch
Mouthpiece size: 2 cm
Type: Mini Bong
Bowl: 20mm female joint
Unbreakable
This 6 inch unbreakable mini bong provides the best of both worlds in the form of the superior filtering of the bigger bong and the portability of a hand pipe - so you can enjoy your hit anywhere and anytime.
What makes this bong even more special is the material with which it is made. Borosilicate is quickly taking over the stoner supplies, be it bongs, water pipes, or smoking pipes. This gorgeous and sturdy material provides your bongs with the ultimate strength. They are durable, last a lot longer, and are resistant to breakage.
Not only this, the borosilicate glass also protects the bong from extreme heat. It is resistant to extreme heat and can prevent thermal shock when you are lighting the chamber up.
4, 5, 6 and 7 inch Bongs at Hubble Bubble Store
If all of these qualities in our six inch mini bong sound attractive to you, then you need to take a trip to the Hubble Bubble's mini bongs collection which houses all of your stoner needs. They offer high quality glass pipes at affordable prices so that you never stop smoking.
They offer various sizes in mini bongs ranging from 4 to 7 inches, depending on your preference. All of these products are straight out of a stoner's wishlist and must be on yours.
FAQs
Why are mini bongs better than larger bongs?
Mini bongs are more portable, easier to clean, and are easier for beginners.
What is a percolator bong?
A percolator bong comprises small holes in the chamber which filters the smoke and causes it to cool down to smoothen the smoking experience.
Why is the borosilicate glass better for bongs?
It is durable, heat-resistant, and resistant to breakage.
How often should I clean my mini bong?
You should clean it weekly, at least but it depends on your usage.